UWS Kaung Whatt School
UWS Kaung Whatt School
22 June 2017 (by admin)
Here is the latest update from UWS Kaung Whatt School.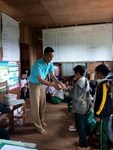 October 2017
Everyone at UWS is deeply saddened by the plight of the people in Rakhine State, Myanmar. With their situation prominent in the news, we wanted update everyone on our continued efforts in Myanmar.
United World Schools' mission is to 'teach the unreached'. Our mission commits us to working in fragile states. To achieve this, we develop schools that support unreached and under-represented groups. We work where we are needed most.
We are passionate about the rights of children, and specifically their right to access a basic education. Our programmes work is conducted sensitively and sustainably. We commit to the NGO principles of do-no-harm. To achieve our aims, we work in partnership with national and local government, in a way that aligns with our mission, vision, values and principles.
We have been working in the Shan State of Myanmar since 2014, supporting indigenous communities. Attached to this email is an overview of our work in UWS Myanmar that outlines our hopes and current efforts. We want to thank you for your continued support with our work in Myanmar, it's only through a real partnership that we can help make a lasting difference to these communities..
June 2017
Across the country, schools have been busy preparing for the new academic year that began this week. Lessons have been planned, timetables have been set, and all that is left to do is confirm the number of children who will be attending. To do this, our UWS teachers have been going from house to house all over Kaung Whatt to encourage parents to enrol their children into school as part of 'registration week'. By approaching families individually, parents are able to voice their concerns, meet our teachers, and understand the value of education before term starts.
This year will mark the opening of four new schools in Myanmar, and the employment of eight new teachers across our fifteen schools. Our Education Officer will oversee the planning of every school day in Kaung Whatt which will consist of seven forty minute lessons in Mathematics, Geography, Myanmar's History, Science, English, Music/Art, and Myanmar's Language.
In the attached photos you will see our Education Officer delivering new books to students, one of the first mathematics classes of the year, and three boys playing with one of their brand new puzzle books.